Home
Talk

0
850pages on
this wiki
Please read the latest news: HERE
Fans: Please take a quick moment to sign the petition to get the Dark Tower signed on for a movie/television contract >>Click Here<<
A spoiler-free Parental Guide to mature content can be found here: Parental Guide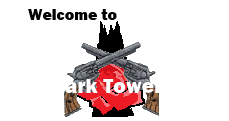 A wiki dedicated to the magnum opus of Stephen King that anyone can edit.
We are currently editing over 850 articles.

Caution:
Some material may be inappropriate for younger readers
Warning: Spoilers Ahead!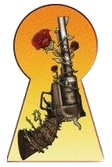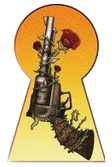 Featured Article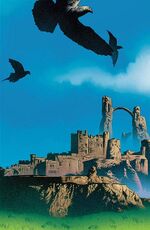 Gilead
was the capital of the Barony of
New Canaan
and was ruled by the gunslinger descendants of
Arthur Eld
. Gilead fell to
John Farson
's forces when
Roland Deschain
was 16. It had a population of around 10,000 people with its major exports being apples, honey, milk and textiles. They have an outer wall which protects the city and an inner wall which protects the palace.
No doubt, as with much of Mid-World the people here know about and tell the tale of Lord Perth.
The ruling seat of Gilead conforms to the old forms of leadership with the elite gunslingers inheriting positions of power; unlike other baronies which are ruled by mayors and other elected officials.

Originally was a major city for the Old Ones, falling into ruins after the Great Cataclysm. However it remained a symbol of Mid-World's former fertility and glory and was one of the first places to start to recover after the cataclysm which is why Arthur Eld chose it as his city and became a symbol of hope to the people. (Read More...)
Polling Booth
Who was your favorite character of the Series?
Should the Dark Tower Series be expanded?
Quote of the Day
   "I am the Eater of Worlds."

  — Crimson King

Stephen King News Updates
Loading RSS data...
Image of the Day
Donald Callahan