The Christopher Street PATH Station, opened on February 25, 1908, is located on Christopher Street (just west of Hudson Street), on the west side of Greenwich Village in the New York City borough of Manhattan.
Role in The Dark Tower Series
Edit
The Christopher Street Station is the station where Jack Mort pushes Odetta Holmes in front of a coming A-Train. A man pulls her out of the way before she gets hit, but she loses her legs.
This is also the station that
Roland
brings Jack's possessed body to after robbing
Katz's Pharmacy and Soda Fountain
. Roland throws Jack's body in front of the A-Train (in an act of poetic justice) while returning to his body back in
Mid-World
. It was the same A-Train that took Odetta's legs.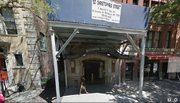 Ad blocker interference detected!
Wikia is a free-to-use site that makes money from advertising. We have a modified experience for viewers using ad blockers

Wikia is not accessible if you've made further modifications. Remove the custom ad blocker rule(s) and the page will load as expected.