Dark Tower Movie
Comments

0
754pages on
this wiki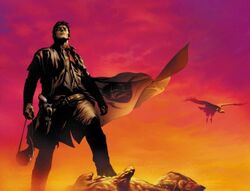 The Dark Tower Movie is a speculative project where The Dark Tower Series may be translated into a movie or a series of movies. The film rights for a movie based off of the books currently resides with Ron Howard's entertainment company, Imagine Entertainment.
In 2007, it was announced by Stephen King that he had sold the rights to the Dark Tower to be made into a movie for an alleged 19 million dollars, a number of some significance within the series. He sold the rights to Damon Lindelof and J.J. Abrams. In 2008, rumors began circling the web as to who will portray Roland. Christian Bale was a huge name being dropped at this time. In November of 2009, Abrams and Lindelof dropped out of the project.
In April of 2010, Ron Howard and his company, Imagine Entertainment, in conjunction with Universal Studios took on the project and decided to make it into a trilogy of feature-length films and two seasons of a television series in between the film releases. It was announced that Javier Bardem will play the lead role of Roland.
In July of 2010, Universal announced that they would not be making The Dark Tower into a movie. The production rights for any Dark Tower movie remain with Ron Howard.
As of September 2011, Ron Howard and Brian Glazer are still looking for ways to distribute the Dark Tower project. Although they predict that the movie won't get made for another year, they plan to sell the rights to a major studio.
Originally supposed to be split into three movies with television spin-offs, Glazer has stated that they plan to create TV spin-offs (or even Netflix) in the case that movie projects don't go through. In the case that a movie does get made, Javier Bardem is still attached to the role of protagonist Roland Deschain.
As of October 2011, Brian Grazer said that the television portion of the Dark Tower movies will be aired on HBO. It is unknown which studio will make the feature length films. Grazer and Howard have reduced the budget of the movie by 45 million dollars.
On August 20th, 2012 Warner Brothers Studios announced that they were dropping the ownership of the Dark Tower Movie rights. They had Russell Crowe attached to the role of Roland at the time
On August 21, one day after the Warner Brother announcement a new backer expressed interest in the Dark Tower property.  Media Rights Capital expressed interest in backing the project. Looking to duplicate the sucess of the Seth McFarline comedy Ted, MPC began talks to obtain the rights for the Dark Tower series. 
Movie News Updates
Edit
Loading RSS data...
External Links
Edit