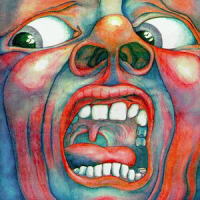 King Crimson is a British progressive rock band. The group's members have changed with great frequency over the years, going through a number of lineups centering around guitarist Robert Fripp. The group's debut album, In the Court of the Crimson King, is still considered one of the greatest progressive rock albums of all-time.
Despite never achieving a great deal of radio play, King Crimson has a dedicated cult following.



Connection to the Dark Tower Series
Edit
This section of the article is speculative. It contains information not related within the books or through another canonical source. Please help The Dark Tower Wiki by adding references. Otherwise, take it with a grain of salt
The band's name and songs almost certainly provided the inspiration for the character of the Crimson King. Similarly, Stephen King probably based parts of the Crimson King's castle and court upon the song, The Court of the Crimson King.
External Links
Edit
Ad blocker interference detected!
Wikia is a free-to-use site that makes money from advertising. We have a modified experience for viewers using ad blockers

Wikia is not accessible if you've made further modifications. Remove the custom ad blocker rule(s) and the page will load as expected.