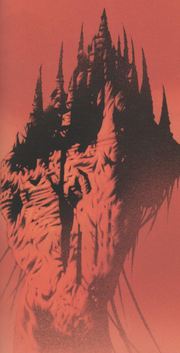 Le Casse Roi Russe, meaning the Castle of the Crimson King, is the residence and seat of the Crimson King, located in End-World next to Castle Town.
It is first seen during The Gunslinger Born when the Crimson King is contacted by Marten Broadcloak through Black Thirteen. It is later visited by Roland Deschain when he is trapped inside Maerlyn's Grapefruit where he meets the Crimson King for the first time and is asked to join his side.
Le Casse Roi Russe is seen again in
The Dark Tower
as Roland and
Susannah Dean
finally reach End-World. The castle's occupants, save for
Rando Thoughtful
, have all been killed by the now insane Crimson King. The King has also vacated his castle to wait for Roland at the
Dark Tower
itself. When Roland comes upon the castle, he is greeted by Thoughtful who pretends to be a
shape-shifter
, taking on the appearance of
Stephen King
. After Roland leaves, Thoughtful is killed and eaten by
Mordred Deschain
.
Ad blocker interference detected!
Wikia is a free-to-use site that makes money from advertising. We have a modified experience for viewers using ad blockers

Wikia is not accessible if you've made further modifications. Remove the custom ad blocker rule(s) and the page will load as expected.