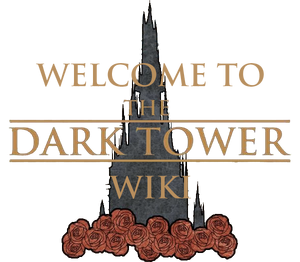 A wiki dedicated to the magnum opus of Stephen King that anyone can edit.
We are currently editing over 936 articles.
Caution:
Some material may be inappropriate for younger readers
Warning: Spoilers Ahead!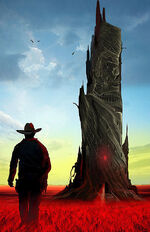 The
Dark Tower
is the center of all creation. It is said to be
Gan
's body, and is held up by 6
Beams
of great size and length, visible only by their effects on the lands along their lines - such as patterns in the clouds. At each end of the Beams, there is a portal, for a total of 12. Each portal is protected by a guardian animal. The Tower can only be entered in one of the infinite number of worlds,
Mid-World
. It is necessary to present a sigul of
Arthur Eld
in order to enter the Tower and in some legends it is believed the tower gave Arthur Eld the
Sandalwood Guns
.
The Tower is a six hundred floor spire made of black stone, and the only entrance is a door of ghostwood, with the words "Unfound" written upon it, the tower has a central oriel window which is striated with thirteen different colours which inspired the design of Arthur Eld's crown. In other worlds, the Dark Tower can take a number of forms including a tiger and a black house. The Rose, however, is not simply a manifestation of the Tower, but a completely separate entity. (Read More...)

A spoiler-free parental quide to mature content can be found here:
Parental Guide

"At this nexus lies the Great Portal, the so-called Thirteenth Gate which rules not just this world but all worlds."
   — 
Roland Deschain

Loading RSS data...

Loading RSS data...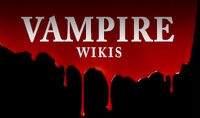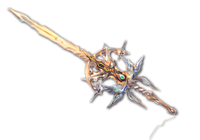 Fantasy Literature
Go to these sites for info or for help with your own wiki!
A Court of Thorns and Roses • A Song of Ice and Fire • Beyonders • The Black Company • The Brotherband Chronicles - Ranger's Apprentice - Royal Ranger • Coraline • The Dark Tower • Deltora Quest • The Demon Cycle • Discworld • The Dresden Files • The Edge Chronicles • Fablehaven • The First Law • Grishaverse • His Dark Materials • Inheritance Cycle • The Kingkiller Chronicle • The Land of Stories • The Magicians • Malazan Book of the Fallen • Mistborn • The Nevernight Chronicle • Pern • Shades of Magic • Shannara • The Spiderwick Chronicles • The Stormlight Archive • Sword of Truth • Throne of Glass • Wheel of Time
Want your community included? See how!