Margaret Eisenart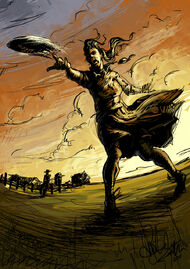 Margaret Eisenhart lived in Calla Bryn Sturgis and was the wife of Vaughn Eisenhart. She was born as a member of the Redpath Clan of the Manni as the daughter of Henchick. She was one of the Sisters of Oriza who stood with Roland Deschain and his ka-tet against the Wolves.
Her husband was against her joining Roland in the fight against the Wolves. They didn't have any children and he didn't want to lose his wife. He finally agreed to let her go because he knew she would never forgive him if he didn't let her. He did promise to curse Roland if his wife was killed.
Margaret was one of the most skilled sisters at throwing the Oriza which made her a prime candidate for the fight against the Wolves. Unfortunately, she was the first one killed in that fight as she was decapitated by one of the Wolves' light-sticks.
Ad blocker interference detected!
Wikia is a free-to-use site that makes money from advertising. We have a modified experience for viewers using ad blockers

Wikia is not accessible if you've made further modifications. Remove the custom ad blocker rule(s) and the page will load as expected.