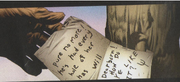 Rhea's Letter
is a letter that
Rhea
wrote and gave to
Sheemie
, hoping to expose the loss of
Susan Delgado
's virginity to
Roland Deschain
. She instructed Sheemie to give it to Susan's Aunt
Cordelia
.
It is signed with Rhea's sigil.
It reads:
''Pure no more!
He's had every hole of her has Will Dearborn
How do ye like it?''
Ad blocker interference detected!
Wikia is a free-to-use site that makes money from advertising. We have a modified experience for viewers using ad blockers

Wikia is not accessible if you've made further modifications. Remove the custom ad blocker rule(s) and the page will load as expected.