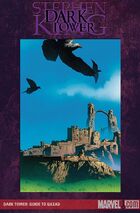 The Dark Tower: Guide To Gilead is a one shot comic published on April 8, 2009 by Marvel Comics. It has 32 pages.
It was written and designed by Robin Furth, Peter David, Jae Lee, Richard Isanove, Anthony Flamini, David Yardin and Val Staples.
The comic aims to delve into and explore the places of New Canaan as well as the people who live there. The numerous gods that are worshipped in Mid-World are also touched upon.
Ad blocker interference detected!
Wikia is a free-to-use site that makes money from advertising. We have a modified experience for viewers using ad blockers

Wikia is not accessible if you've made further modifications. Remove the custom ad blocker rule(s) and the page will load as expected.