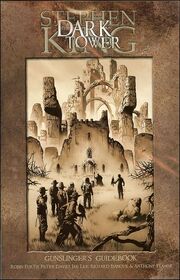 The Gunslinger's Guidebook is a one shot comic published on August 1st 2007 by Marvel Comics. It has 48 pages.
It was written and designed by Robin Furth, Peter David, Jae Lee, Richard Isanove and Anthony Flamini.
The comic aims to delve into the characters of Gilead and Hambry as well as some of the agents of the Crimson King and Maerlyn's Rainbow. A history of Arthur Eld is also given and a 65 word glossary is included.
The only noteable mistake in the comic is where it mentions the Barony of Garland it is likely that this was a mere spelling error and that it is in fact the Barony of Garlan.
Ad blocker interference detected!
Wikia is a free-to-use site that makes money from advertising. We have a modified experience for viewers using ad blockers

Wikia is not accessible if you've made further modifications. Remove the custom ad blocker rule(s) and the page will load as expected.