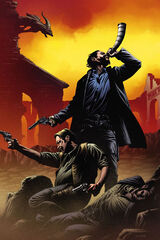 Steven Deschain and the other full Gunslingers convene to decide their next move, Justus who says John Farson's camp is undermanned and so they should strike. They agree and receive news of rumours around the city that who ever killed Gabrielle Deschain should be killed.
Aileen Ritter helps Roland Deschain leave prison.
Laird De Curry is killed and Steven and his gunsinger's realize Justus' treachery as they are ambushed. They kill Justus and the battle begins.
Aileen and Roland find Abel Vannay murdered.


Ad blocker interference detected!
Wikia is a free-to-use site that makes money from advertising. We have a modified experience for viewers using ad blockers

Wikia is not accessible if you've made further modifications. Remove the custom ad blocker rule(s) and the page will load as expected.