<<< The Fall of Gilead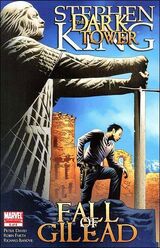 John Farson's army arrives at the gates of Gilead and battle begins.
A flashback shows the Gunslinger Apprentices preparing the cities various traps, cutting back to the battle Farson's army is at the mercy of these traps.
Soon the city walls and gate is breached, Roland Deschain and his party have to flee the city.
Whilst this happens the women and children hiding in the inner keep are burned alive by Gilead's Guards, they are killed by the Gunslinger Apprentices but not before every woman and child is killed.
The last Gunslingers flee the city through the keep, surrounded by the burnt dead.


Ad blocker interference detected!
Wikia is a free-to-use site that makes money from advertising. We have a modified experience for viewers using ad blockers

Wikia is not accessible if you've made further modifications. Remove the custom ad blocker rule(s) and the page will load as expected.