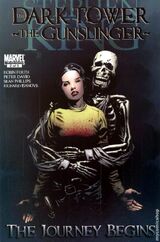 Roland Deschain sees Aileen Ritter who is coughing up blood, twisting the bodies of Jamie and Cuthbert to escape the pile of dead bodies. Roland believes Aileen living as a sign, but Aileen just says she wants to go back to Gilead, which has already fallen, to rest. Roland complies with her request.
On the way through the desert Roland finds more scattered dead bodies, one of which was a boy called John. A Billy-Bumbler is seen sitting near the boy, who was his master. Roland buries the dead and tries to leave John's Billy-Bumbler but it follows him.
That night when Aileen and Roland stop they are ambushed by two invisible Not-Men who start to take Roland's gunna. John's Bumbler bites one of the Not-Men. Roland then realizes he's fighting Not-Men and not spirits and quickly dispatches the duo. However, while the battle ensued, Aileen passed on. Roland is saddened saying he knew what she felt for him and out of everyone he wished he could love, it was her. He also says that she deserves a better final mourner then the one who has cried out his last tears a long time ago.
John's Bumbler continues to follow Roland and they reach Gilead. He then puts Aileen's wrapped body in the coffin, in the arms Cort. Roland scourges the armory and then spots the kitchen door ajar. When Roland opens the door he sees a group of Slow Mutants torturing and eating a pack of Billy-Bumblers. Roland kills all the mutants, but all the Bumblers (except John's) unfortunate die.
Roland then hears a noise and the ghost of Hax then appears in the kitchen.
Ad blocker interference detected!
Wikia is a free-to-use site that makes money from advertising. We have a modified experience for viewers using ad blockers

Wikia is not accessible if you've made further modifications. Remove the custom ad blocker rule(s) and the page will load as expected.