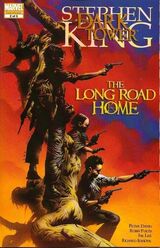 The Psychic Enhancer Assistant experiments on Sheemie whilst Roland remains stuck inside Maerlyn's Grapefruit. There he is a met by a crow which reveals itself to be Marten Broadcloak who taunts him, saying he controls Roland's fate.

Cuthbert and Alain arrive at the bridge crossing over Xay River Canyon. Alain thinks the bridge too dangerous to cross, but Cuthbert convinces him its worth the risk. Cuthbert manages to coax two horses over the bridge, but his horse panics and breaks its fetlock and so Cuthbert has to kill it, letting it fall into the canyon.

Alain attempts to cross the bridge with Roland's lifeless body when he attacks Alain in his dream-like state. Alain nearly drops the sphere and Roland into the canyon, but his quick reflexes save them both. They finally cross the bridge and Cuthbert cuts its supports and so they are finally free from the pursuing Clay Reynolds.
Sheemie awakens after his ordeal with the machine not understanding what has happened. However, once he reaches the canyon he teleports himself over along with his mule.
Ad blocker interference detected!
Wikia is a free-to-use site that makes money from advertising. We have a modified experience for viewers using ad blockers

Wikia is not accessible if you've made further modifications. Remove the custom ad blocker rule(s) and the page will load as expected.