Touched by the Crimson King
is
Demons & Wizards
' second studio album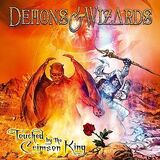 released in June 2005. The majority of the inspiration for the album was based on
The Dark Tower Series
, the album itself even naming
The Crimson King
.
Track Listing
Edit
Music and lyrics written by Schaffer/Kürsch, except for "Immigrant Song" written by Page/Plant.
"Crimson King ([1])"- 5:47
"Beneath These Waves"- 5:12
"Terror Train ([2])"- 4:46
"Seize the Day"- 5:22
"The Gunslinger ([3])"- 5:15
"Love's Tragedy Asunder"- 5:28
"Wicked Witch"- 3:32
"Dorian"- 6:36
"Down Where I Am"- 4:54
"Immigrant Song" (Led Zeppelin cover)- 4:54
(Limited Edition Only)
"Lunar Lament" – 4:04
"Wicked Witch" (slow version) – 3:56
"Spatial Architects" – 5:46
"Beneath These Waves" (edit) – 3:41
Lyrical Content and The Dark Tower
Edit
Ad blocker interference detected!
Wikia is a free-to-use site that makes money from advertising. We have a modified experience for viewers using ad blockers

Wikia is not accessible if you've made further modifications. Remove the custom ad blocker rule(s) and the page will load as expected.