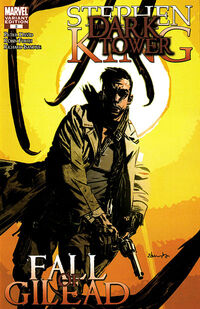 Has The Dark Tower series finally found a home at HBO? After years of being shunted around as a potential movie, TV series, and miniseries, producer Brian Glazer is claiming that The Dark Tower will be coming to HBO.
Glazer is determined to produce both a TV series and a movie:
"We're going to do ['The Dark Tower'] with HBO. We'll do the TV with HBO, and we'll do the movie with … to be determined. We'll do it right."
Javier Bardem is still on board for Roland Deschain as well. Hopefully we'll see another spectacular HBO show come out of The Dark Tower!
Source
Ad blocker interference detected!
Wikia is a free-to-use site that makes money from advertising. We have a modified experience for viewers using ad blockers

Wikia is not accessible if you've made further modifications. Remove the custom ad blocker rule(s) and the page will load as expected.