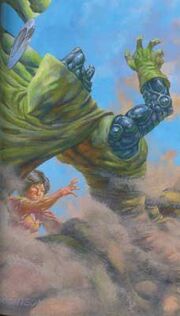 The Wolves appear in Wolves of the Calla, and are similar to the mechanical bear, Shardik. They appear to resemble the famous Fantastic Four villain, Doctor Doom, and use tiny golden grenades called "sneetches " (a homage to J.K. Rowling's Harry Potter) as well as energy-emitting swords that resemble lightsabers (a tribute to George Lucas' Star Wars films) . The Wolves, preparing to attack the Calla, are ultimately defeated by Roland Deschain and his ka-tet.
The Wolves work for the Crimson King, and are responsible for taking the children of the Calla and bring them back to Fedic so they can take the children's brain matter to feed the Breakers, leaving the children roont. The final time the Wolves came was their last, and there are no more left.
Other Wolves
Edit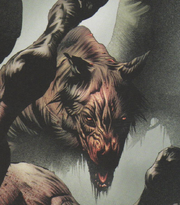 As well as the mechanised wolves seen in the Calla there are mutie wolves throughout Mid-World, they are seen during
The Long Road Home
where
Alain Johns
and
Cuthbert Allgood
kill a pack of them. They are portrayed as furless, with extra heads. Their saliva is said to be filled with toxins and can be deadly to any who get bitten without medical attention.